True Music Hybrid Sounds
Think you know True Music? Think again. For our third instalment of Boiler Room x Ballantine's True Music Journey, we'll be taking you on a ride to unchartered musical territories. Carrying on our tradition of creating new and exciting music with innovative artists, we'll be travelling to Russia, Brazil, Lebanon and Spain on a tour to bring together pioneering live electronic acts with their more traditional, instrumental counterparts in some of the most musically and culturally diverse cities in the world.

Leading the collaborations are London based brothers Overmono, Dutch lo-fi house producer Dollkraut, French musician rRoxymore and innovative Bulgarian producer and DJ KiNK. They'll be partnering up with some of the most original local live acts in Moscow, São Paulo, Beirut and Valencia to create new music that challenges the perception of modern day genres; the culmination of these tracks will be the third True Music EP.
LEAD ARTISTS
OVERMONO
Under their respective artist names Truss and Tessela, brothers Tom and Ed Russell have forged formidable individual reputations as producers, with releases on the likes of R&S, Perc Trax, and their own Poly Kicks label. They've recently come together under their joint moniker, Overmono, combining their talents to create music that sits somewhere between ambient, techno and hardcore.
DOLLKRAUT
Hailing from Holland, Pascal Pinkert aka Dollkraut started making music while still at school, honing his craft with piano lessons while at art school. He's been described as 'an analogue sound wizard with a golden touch for pop moments', with tracks driven by a deep love for old lo-fi recordings and 70's synths. He has released 2 EPs on label Doppelschall, from which the song "Loot" was a deep house hit.
rROXYMORE
rRoxymore's leftfield sound comes from years of experience in different kinds of performance, ranging from playing electronic percussion in a hard rock act to spinning rare groove and hip-hop. She taught herself to produce, in a garage in her hometown of Montpelier, France, 15 years ago. Later, in Paris, she took an Acousmatic music course before moving to Berlin. Here she lined up her first solo releases and is a regular at Berghain, when not touring internationally.
KiNK
Renowned Bulgarian producer and DJ, KiNK, voted Resident Advisor's favourite live electronic artist in 2016, experiments with hardware in his DJ sets and production to create nuanced, unexpected house and techno. Brought up in Communist-era Sofia, he taught himself to play using modular synths which has influenced his sound to this day. He released his second album, on Gerd Janson's label Running Back, in 2017.
We'll be closing the journey in Valencia with another of our True Music Forum's- the place for people to connect, share ideas and discuss their passions featuring cream-of-the-crop speakers from inside the Music industry.

There'll be live shows, intimate performances and exclusive behind the scene films that explores the creative approaches of the producers and put a spotlight on each city's local music scene. Get ready, get hyped and stay tuned here to make sure you won't miss a single beat of True Music: Hybrid Sounds.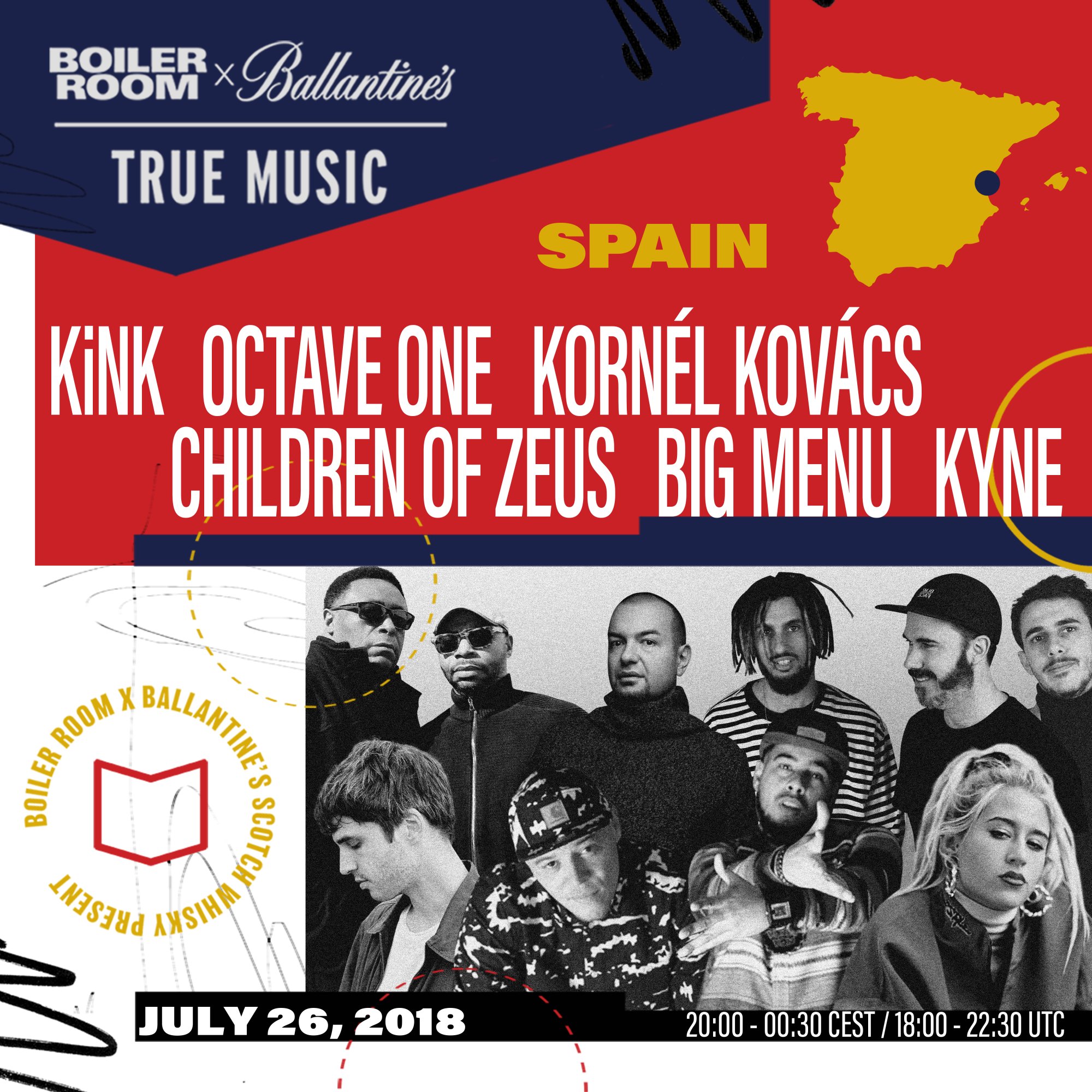 EVENT
HYBRID SOUNDS X VALENCIA
This is the big one. True Music Hybrid Sounds is coming to Valencia for the last stop in this incredible three-continent tour. Over the last 6 months we've been celebrating the intersection of electronic and acoustic music, and this show is set to be the ultimate banger full of never-before-heard rhythms and beats not for the faint-hearted.
EVENT
HYBRID SOUNDS X SÃO PAULO
Forget about Samba. Don't even think about Bossa Nova. When we go to Brazil we bring True Music Hybrid Sounds. For our third instalment of this tri-continental tour we touched down in Sao Paulo for a dance floor shaking techno show. Get the lowdown here of what went on in Brazil's clubbing capital here.
EVENT
HYBRID SOUNDS X LEBANON
True Music Fans, it's time to get excited. The second stop of Hybrid Sounds will bring you into the outer fringes of the Mediterranean and into the gateway of the Middle East. Taking place in Beirut, on April, 19th, the show features a lineup with a mix of international and local talent.
EVENT
HYBRID SOUNDS X RUSSIA
Moscow, we're coming for you. Stay tuned here if you don't want to miss out.